Viper
Viper is 188 feet tall with 3,830 feet of track. In the foreground is Viper's Batwing Loop. The ride in the background is X.
In the 1980s, there was a push to build roller coasters with more and more loops. Cedar Point's Corkscrew was the first coaster with three loops when it opened in 1976, and it seemed like Arrow added another loop to their steel coasters every year or two in the 1980s. Arrow's looping trend peaked with Vortex's six loops in 1987, Shockwave's seven loops in 1988, Great American Scream Machine's seven loops in 1989, and Viper's seven loops (two of which are visible here) in 1990. In 1989, Arrow built Magnum XL-200, the world's first hyper-coaster. Magnum used a simple out-and-back design without any inversions, and it was extremely popular, so it seemed to set Arrow on a non-looping path. In the 1990s, Arrow ended up building a very small number of coasters with just two or three loops as they focused on making more hyper-coasters, suspended coasters, Mine Trains, and Mad Mouse rides. Although most other manufacturers followed Arrow's lead by making rides with little to no looping elements, there were a few recent exceptions. In 2013, Gerstlauer built Smiler at Alton Towers, a coaster with a record-setting 14 inversions. Four Intamin coasters have ten inversions: 10 Inversion Roller Coaster (2006) at Chimelong Paradise in China, Altair CCW-0204 at Cinecittà World in Italy, Colossus at Thorpe Park in the United Kingdom, and Crazy Coaster at Loca Joy Holiday Theme Park in China.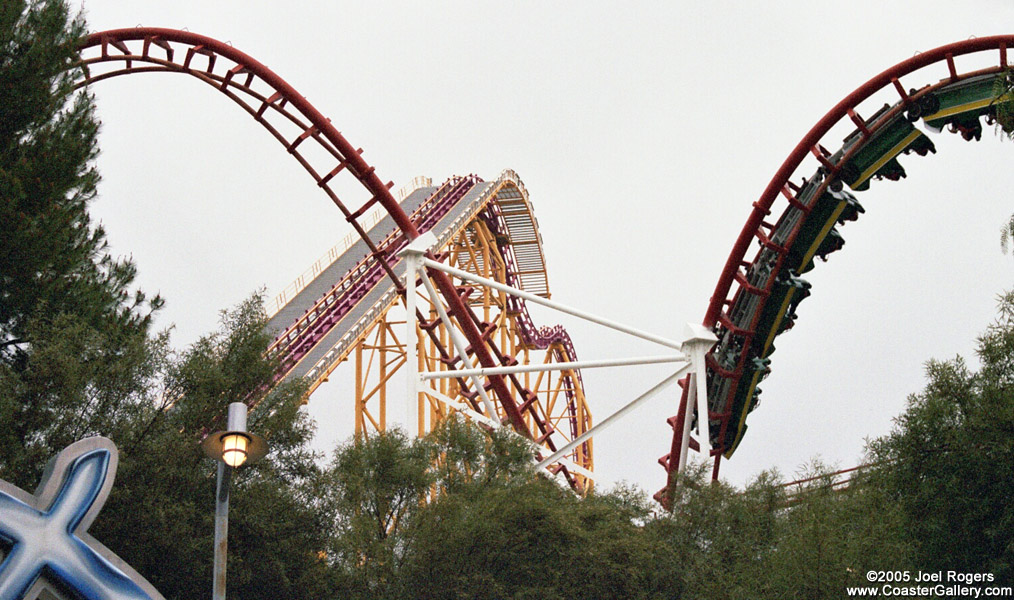 ---
©2017 Joel A. Rogers.