Apocalypse The Ride
This back corner of Magic Mountain has been home to four roller coasters. In addition to Apocalypse, three other coasters have been here.
Sarajevo Bobsleds, an Intamin "Swiss Bob" coaster, ran here from 1984 to 1986. It was moved to Six Flags Over Texas in 1987 where it was called Avalanche until its name was switched to La Vibora in 1995.
Shockwave, an Intamin Stand-Up looping coaster, replaced the bobsled and was here from 1986 to 1988. Shockwave later spent time in New Jersey where it was also called Shockwave when it appeared at Six Flags Great Adventure from 1990 to 1992. After that period, it was relocated again to yet another Six Flags park and was known as Batman: The Escape at Six Flags AstroWorld. It operated in Houston from 1993 until AstroWorld closed permanently in 2005. The ride was disassembled and moved to New York state in 2006, and the pieces of the ride were placed in a field adjacent to Darien Lake, an amusement park owned by the Six Flags chain. Because the disassembled pieces have been sitting dormant and rusting away for a decade, I doubt it will ever be reassembled.
Psyclone, a wood roller coaster built by the Dinn Corporation, occupied this spot of real estate from 1991 to 2006. After it was torn down, this portion of the park was unoccupied for a couple of seasons.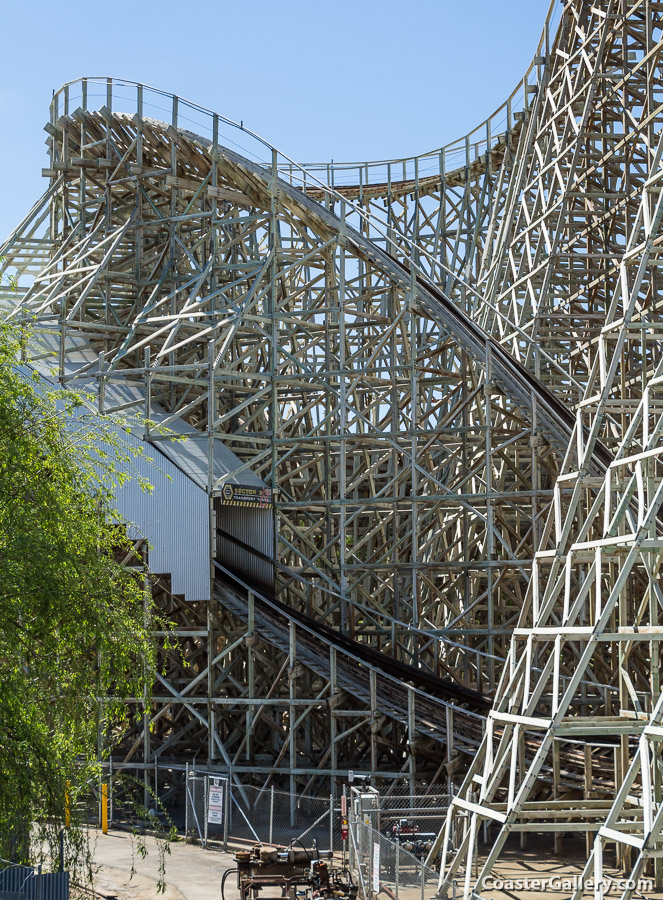 ---
©2016 Joel A. Rogers.