Legoland Florida
(formerly Cypress Gardens Adventure Park)
Winter Haven, Florida

Founded in 1936 by Dick and Julie Pope, Cypress Gardens became the birthplace of performance water skiing in 1941. Over the decades, the park has gone through a tremendous amount of changes. Initially, Cypress Gardens was run by the Pope family until 1985 when it was purchased by book publisher Harcourt Brace and Jovanovich (HBJ). Just four years later, Busch Entertainment Corporation, a subsidiary of Anheuser Busch Companies, purchased Cypress Gardens, Sea World, and Circus World. Cypress was spun off in 1995 to a private partnership led by Bill Reynolds. Declining attendance forced the park to close in April 2003. A year later, the park was purchased and reopened by Kent Buescher, owner of Wild Adventures in Georgia. Land South Adventures, LLC, purchased the park in 2007 after it was hit by three hurricanes and filed for bankruptcy. The Baker Leisure Group took over the management in early 2009.

In November 2008, the park was closed for a major renovation. The park reopened in March 2009 with a water park and the original botanical gardens, but the animals were gone and the roller coasters and rides were in the process of being removed. The park closed yet again in September 2009. After months in limbo, Cypress Gardens was sold to Merlin Entertainments and later reopened as Legoland Florida in October 2011. Like the other Lego parks, the name is often capitalized as LEGOland Florida or LEGOLAND Florida.

After the park switched over to Legoland, three coasters were removed (see below for pictures and more information):
Fiesta Express (2004-2008) operated at Gillian's Funland and Gillian's Wonderland Pier from 2009 to 2011, but it is now Fiesta Express at Austin's Park N Pizza.
Galaxy Spin (2005-2008) sat until April 2010. It was then moved a little north and became Power Trip Coaster, and later the Rockstar Coaster, at Fun Spot USA in Kissimmee, Florida.
Starliner (2007-2008) only ran for a year after it was relocated to Cypress Gardens. It was torn down in 2010.
---
Dragon (formerly Okeechobee Rampage)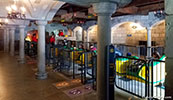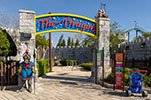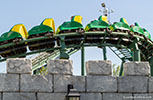 Flying School (formerly Swamp Thing)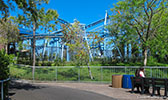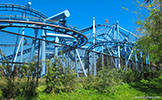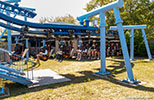 Coastersaurus (formerly Triple Hurricane)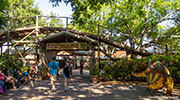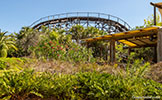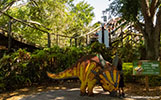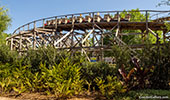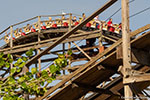 ---
CoasterGallery.com Home
©2021 JAR Productions. All rights reserved.