SkyRider
Of the eight TOGO stand-up coasters, five are still in operation. Here is a complete list of the stand-up rides and their current status:
(1979-present) Momonga Standing and Loop Coaster at Yomiuriland in Japan. It operates with one stand-up and one sit-down train.
(1984-2001) King Cobra at Kings Island. Stored until scrapped in 2006.
(1985-present) Standing Coaster at Rusutsu Resort in Japan
(1985-2014) SkyRider at Canada's Wonderland. The coaster, seen here, was relocated and became
(2015-present) Freestyle at Cavallino Matto in Italy
(1985) Star Jet at Expo'85 in Japan. Coaster was relocated and became
(1986-present) Star Jet at Brazilian Park Washuzan Highland in Japan. Operates with one stand-up train and one backwards facing sit-down train.
(1986-2015) Shockwave at Kings Dominion. Was offered for sale for a few years, but ultimately was scrapped.
(1991-present) Milky Way (formerly Ultra Twin and Fujin-Faijin) at Greenland in Japan. Consists of two side-by-side tracks. Originally used stand-up trains on both tracks, now has sit-down trains on one track.
(1992-2007) Rujin Raijin II at Expoland in Japan. A derailment killed a passenger, and the ride never reopened. The park itself closed down permanently shortly after this accident.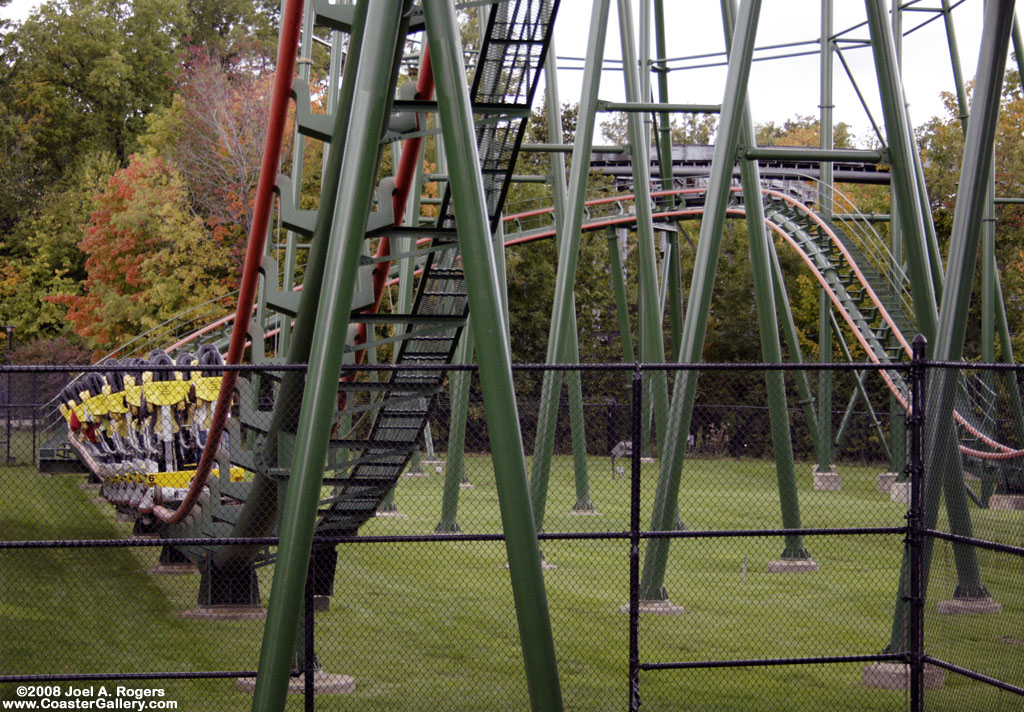 ---
©2019 Joel A. Rogers.