Wonder Mountain's Guardian
Canada's Wonderland was designed and built by Taft Broadcasting. The original plan outlined by Taft included a large one-third-scale replica of the Eiffel Tower that was to be installed in the center of the park. It would have been nearly identical to the 315-foot Eiffel Tower built at Kings Island in 1972 and the other Eiffel Tower built at Kings Dominion in 1975, both parks that were also owned by Taft Broadcasting at the time. However, as the park's planning progressed, the decision was made to ditch the tower and use a mighty Canadian mountain as the new park's centerpiece instead. The man-made mountain was one of the park's original attractions when it opened in 1981. Some people erroneously believe that the mountain is based on the Paramount logo, but it was built a decade before the park was purchased by Paramount Pictures in 1993.
Construction on the mountain began in 1979, and when it opened in 1981, it had walkways and ramps that allowed people to walk up to the top to view the park from the peaks. The powered coaster Blauer Enzian operated in the park from 1981 to 1985. In 1986, it was relocated and most of the ride was placed within Wonder Mountain. At the same time, the ride was renamed Thunder Run. In 1991, Vortex was added to the park, and part of its lift hill and first drop was placed over the mountain. As that coaster was added, the mountain's walkways were closed to the public, but sharp-eyed visitors may still see some of the ramps, especially while riding Vortex. Over the years, the mountain has been used as a location for shows as well as a launching platform for firework displays. In recent years, the mountain is the home for a nightly show using animation and projection-mapped displays.
Wonder Mountain's Guardian's coaster track is visible on the left of this picture, but Vortex and Thunder Run are hidden on the opposite side of the mountain.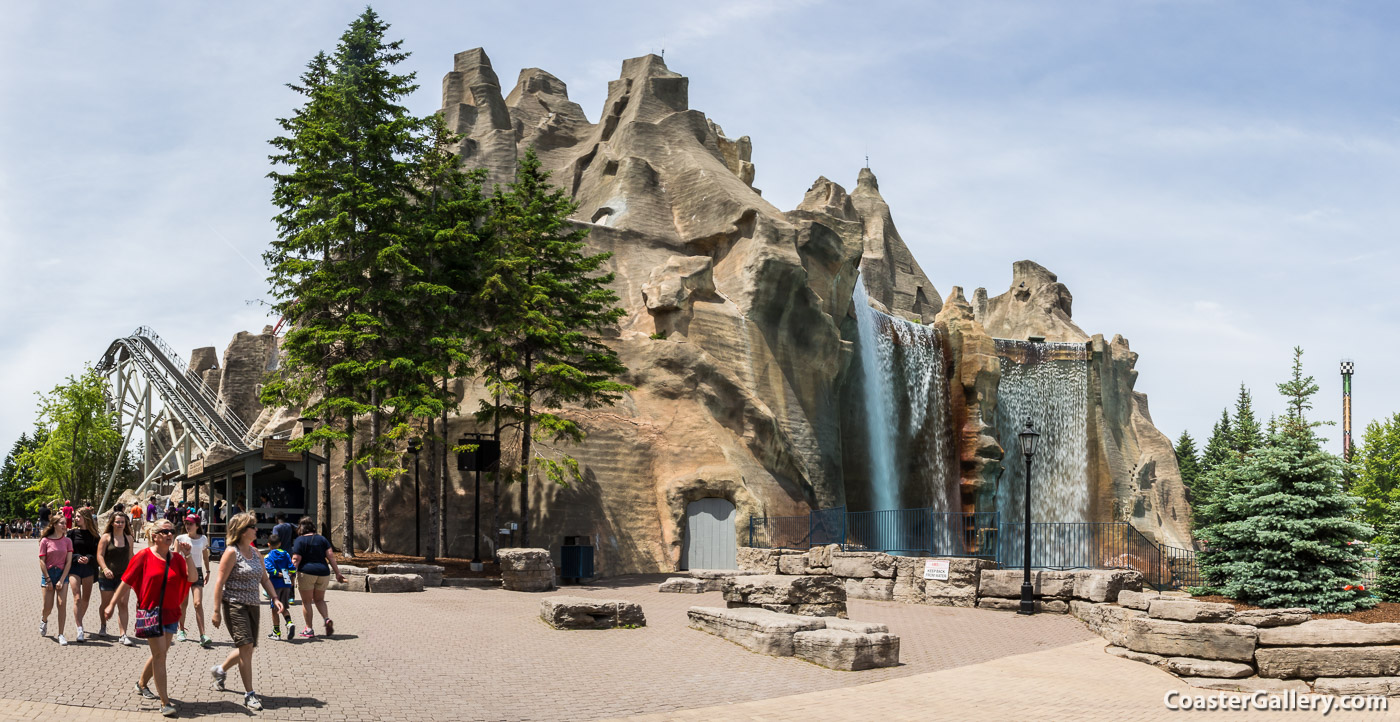 ---
©2019 Joel A. Rogers.