Sky Rider
Caripro Rides built eight roller coasters between 1997 and their sale to Vekoma in 2002. (One coaster never worked correctly and never opened, so check the next page for details of that flop.) This newly-formed single-rail suspended coaster division went out of business when Vekoma went bankrupt just a few months later. Here are the coasters that Caripro built and actually opened to the public:
Scooby's Ghoster Coaster (1998-2005) at Kings Island - Ride was in storage from 2006 to 2012 but was ultimately scrapped.
Spellbreaker (2000-2003) at Legoland California in Carlsbad, California - Had two side-by-side tracks and raced two cars at one time. Coaster was Standing But Not Operating in 2004 but later scrapped.
Vleermuis (2000-2018) at Plopsaland De Panne in Adinkerke-De Panne, Belgium - Also had two side-by-side tracks. Name translates to "Bat" in English. Was relocated to Trans Studio Bali in Indonesia, but has not reopened.
Hydra Fighter II (2001-2003) at Wet 'n Wild Emerald Pointe in Greensboro, North Carolina. Standing But Not Operating 2003-2006. The only "AquaFlyer" built.
Batflyer (2001-2015) at Hamanako Pal Pal in Hamamatsu, Shizuoka, Japan - Relocated to Trans Studio Action Zone in Indonesia but has not reopened.
Batflyer (2001-2017) at Nasu Highland Park in Nasu, Tochigi, Japan. Ride is Standing But Not Operating.
Sky Rider (2001-present) seen here at Skyline Park. Only "Gyroflyer" built.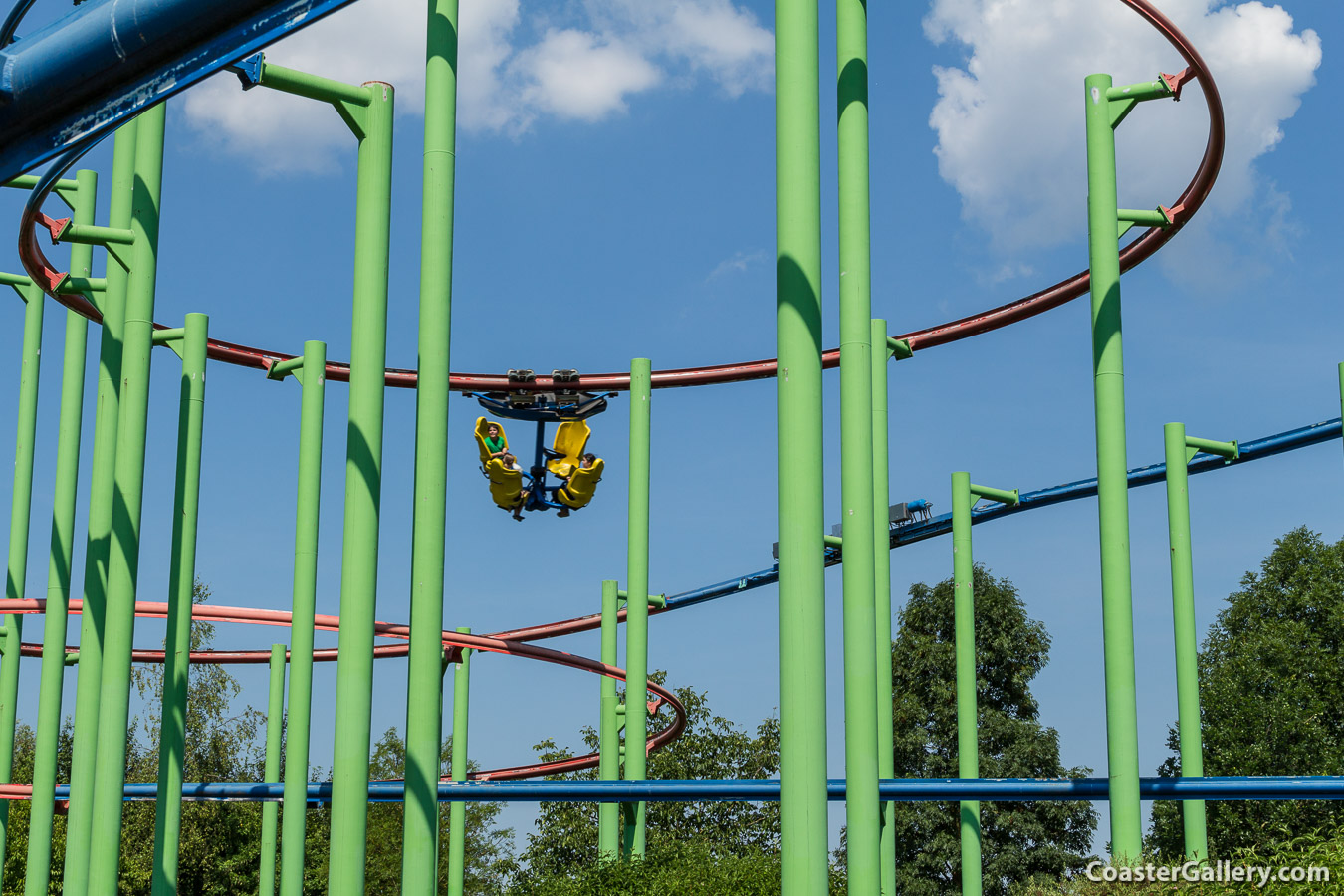 ---
©2019 Joel A. Rogers.