Green Lantern: First Flight
Green Lantern and the other ZacSpin rides are very similar to the Free Spin coasters built by S&S. Both types are often called 4D coasters. As of 2016, only two Free Spins were operating: Batman: The Ride (2015) at Six Flags Fiesta Texas and Joker (2016) at Six Flags Great Adventure. (I just took pictures of Joker, so check back in a few weeks.) Four more Free Spins are being built for 2017: Arashi (Storm in English) at Nagashima Spa Land, Joker at Six Flags Great America, Joker at Six Flags Over Texas, and Joker at Six Flags New England.
I have been on several copies of each type of 4D coaster, but I must admit that I enjoyed the ZacSpin model more than the Free Spin. Ironically, the cars on the ZacSpin are allowed to spin freely, but sets of magnets are on the rails and used to impart spin to riders on the Free Spin models. I didn't really like the forced spinning on the S&S Free Spin versions.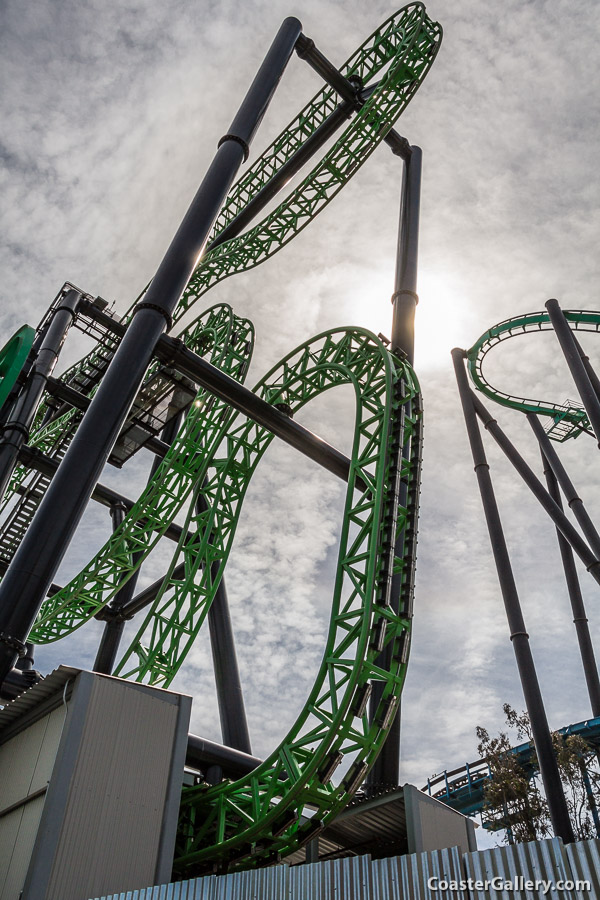 ---
©2017 Joel A. Rogers.