Disaster Transport
From 1985 to 1989, this ride operated here as Avalanche Run. It cost over $3 million to build. $4 million was spent in 1990 to enclose and theme the bobsled coaster and turn it into a space adventure. ITEC Productions, Inc., a Florida company that has designed and created themed dining, themed retail, and amusement park experiences, added lights, sounds, and special effects in the buildings seen here between the covered sections of track. Some satellites, asteroids and space debris were suspended in the large enclosures. Most of the ride occurred in darkness, but the large props were illuminated so riders could view them as they zoomed by.
The name Disaster Transport came from a sign on the entrance. It was labeled "Dispatch Master Transport" but some of the letters were burned out to create the "Disaster" name. The ride's story was that passengers were going on a rocket flight to Alaska to deliver rocket parts. The waiting queue took guests through a Rocket Recovery room, a Mission Control room, and a Repair Bay. Robots, a variety of special effects, and tons of fluorescent paints and blacklights were used to create a really cool space-themed environment before even getting to the actual coaster. Unfortunately, the wonderful theming, robots, and shows located in the waiting queue were removed as time went by. In the 2000s, the coaster's waiting queue was significantly shortened as several of the waiting rooms were converted into storage for HallowWeekends props. The ride was permanently closed in July 2012.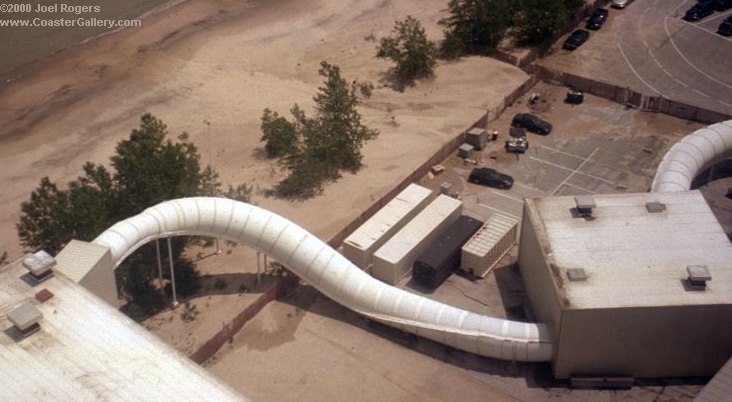 ---
©2017 by Joel A. Rogers.