Georgia Scorcher
Twenty one stand-up coasters were built, all opened for the first time between 1982 and 1999. The Japanese TOGO company started the standing fad by converting two conventional sit-down coasters in Japan, Momonga Standing & Loop Coaster and Dangai, by adding new trains in 1982. Since the late 1990s, the Star Jet at Washuzan Highland in Japan has operating with one stand-up train and one sit-down train. TOGO also opened six purpose-built stand-up coasters: King Cobra at Kings Island, SkyRider at Canada's Wonderland, Standing Coaster at Rusutsu Resort in Japan, Shockwave at Kings Dominion, and Milky Way at Mitsui Greenland in Japan. Out of the nine TOGO stand-ups, only five are still in operation.
Arrow Dynamics jumped on the bandwagon by adding stand-up trains to Extremeroller at Worlds of Fun in 1983 and Rail Blazer at Six Flags Over Mid-America in 1984. Both of those rides were switched back into sit-down coasters after just two summers of stand-up rides.
Intamin built three stand-ups between 1986 and 1994. Shockwave at Six Flags Magic Mountain, which later became Shockwave at Six Flags Great Adventure, finally closed after nearly a decade as Batman The Escape at Six Flags Astroworld. Stand Up was at Sweden's Skara Sommarland from 1988 until 1994, but now it runs as Cobra at La Ronde. Their last stand-up coaster is The Shock Wave at Drayton Manor Theme Park in England.
All seven of B&M's stand-ups are still running, but Mantis at Cedar Point switched to floorless trains for 2015. Besides Georgia Scorcher, which is now covered in Pantech Mobile ads, the other five B&M standing coasters are: Iron Wolf (1990) at Six Flags Great America (which has been Apocalypse at Six Flags America since 2012), Vortex (1991) at California's Great America, Vortex (1992) at Carowinds, Chang at Kentucky Kingdom (which has been Green Lantern at Six Flags Great Adventure since 2011), and Riddler's Revenge (1998) at Six Flags Magic Mountain.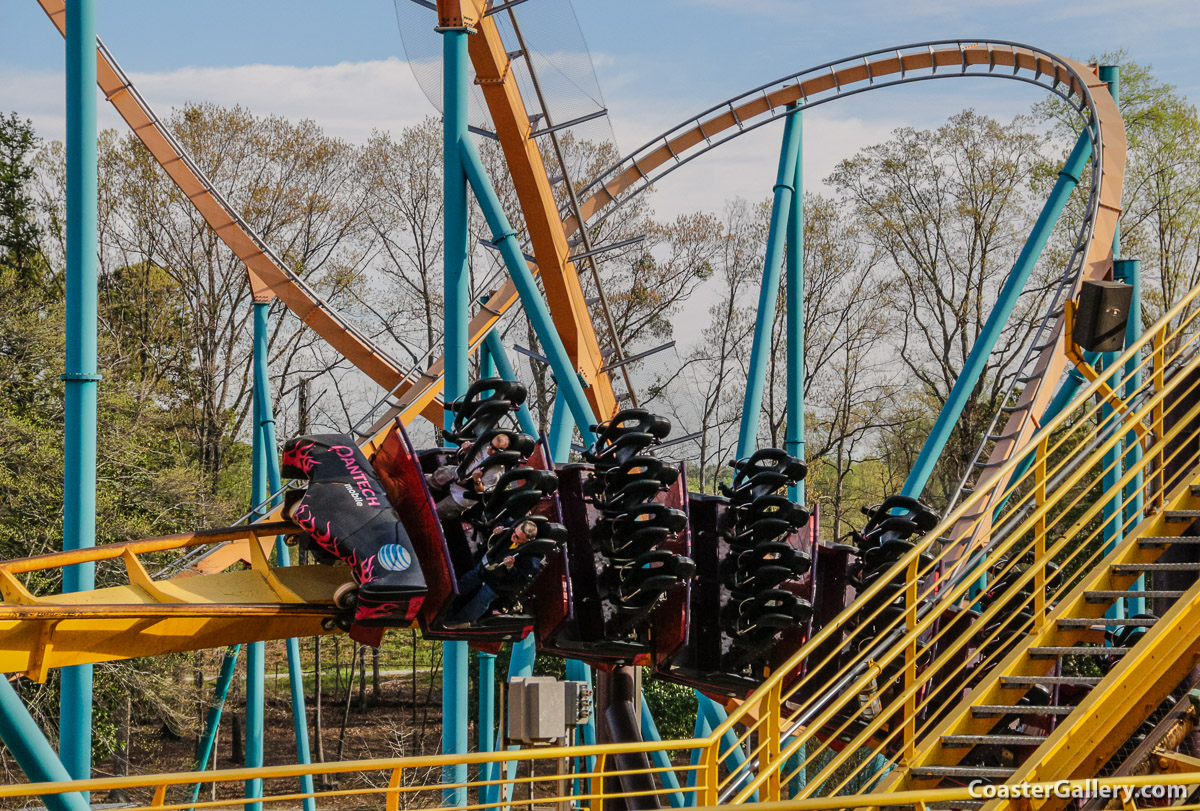 ---
©2014 Joel A. Rogers.