Himeji Central Park (姫路セントラルパーク)
Himeji, Hyōgo, Japan
Situated in the Kansai region about a 90-minute drive west of Osaka, Himeji Central Park ("Himeji Sentoraru Pāku" as the locals call it) opened in 1984. Sitting on the outskirts of the town of Himeji, it consists of a safari park, an amusement park, and a water park. The drive-through safari has a large collection of carnivores and herbivores and can either be experienced from the park's buses or from guests' personal cars. There is also an aerial lift called Sky Safari where large gondolas pass over the tracts of land that are home to the diverse collection of animals. Among the animals on display are lions, tigers, cheetahs, zebras, hippos, giraffes, elephants, and much more. The amusement park has a nice mix of rides, an ice rink, and five roller coasters.
---
Camelback Jetcoaster (ジェットコースター)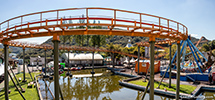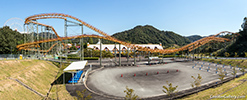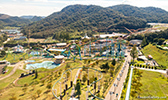 ---