Top Thrill Dragster
Dragster is one of 14 "Accelerator Coasters" built by Intamin. These rides, which were built between 2002 and 2010, are all hydraulically-launched, and many have "Top Hat" hills like the one shown here. Two of the rides recently ceased operating, but there have not been any announced plans to relocate the two coasters. Here is a chronological list of the "Accelerator Coasters:"
Xcelerator (2002) at Knott's Berry Farm in Buena Park, California
Top Thrill Dragster (2003) at Cedar Point in Sandusky, Ohio
Storm Runner (2004) at Hersheypark in Hershey, Pennsylvania
Rita (2005) at Alton Towers in Alton, England
Kingda Ka (2005) at Six Flags Great Adventure in Jackson, NJ
Skycar (2005) at Mysterious Island in Zhuhai, China
Superman Escape (2005) at Warner Bros. Movie World in Gold Coast, Australia
Stealth (2006) at Thorpe Park in Chertsey, England
Speed Monster (2006) at TusenFryd in Vinterbro, Norway
Zaturn (2006-2017) at Space World in Yahata Higashi, Japan
Desert Race (2007) at Heide Park Resort in Soltau, Germany
Senzafiato (2009) at Miragica in Molfetta, Italy
Formula Roosa (2010) at Ferrari World Abu Dhabi in Abu Dhabi, United Arab Emirates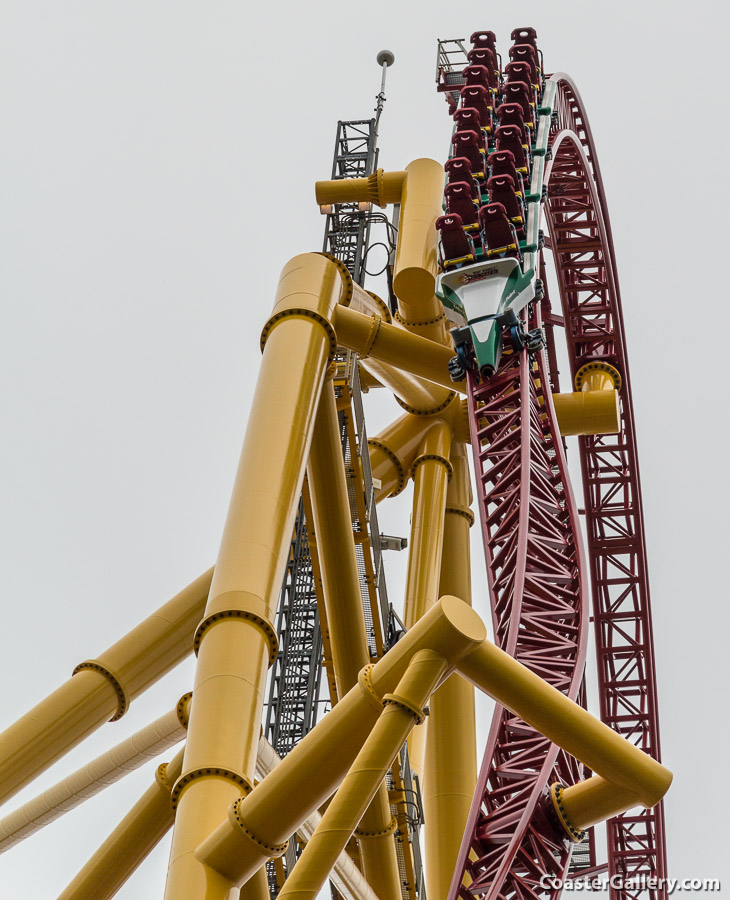 ---
©2018 by Joel A. Rogers.